Articulo Publicado por Nuria Triguero en el Diario Sur de Málaga, el 2 septiembre 2019.
Hicosol, la empresa malagueña que enfría los 'cubatas' de media España
La compañía, que produce más de 60.000 toneladas al año, cuenta con una patente de prensado de hielo que le permite generar los cubitos más rápidamente y que éstos tarden más en derretirse.
«Ice has no added value, when ordering a 'cubata' nobody asks that it be from this brand or the other … Now, if the ice runs out, the party is over … What do I say, it's over the world!". In this way, Manuel Bustos, the main shareholder of Hicosol, the company that claims to lead national production with a capacity of 350,000 kilos per day, summarizes the intricacies of the ice business. A "very complicated" business, he says, because it suffers fluctuations in demand that respond to both the climate and the economy; and because to be successful you have to be cheap but "above all, reliable." Nobody forgives running out of ice in the middle of a party, or in the middle of summer.
The soft drinks and cubalibres that half Spain drinks are cooled with cubes from the factories that Hicosol has in Malaga and Valencia. The company disputes the leadership with Procubitos, which has its main production plant in Ávila, but Manuel Bustos assures that they produce more ice. In total, this Malaga company exceeds 60,000 tons per year, between the cubes (which are around 50,000) and the flakes, mainly used for preserving fish, although in recent years also for making mojitos and other cocktails.
Malaga patent
Precisely the manufacture of flake ice was the origin of Hielos Costa del Sol, which was founded as SL in 1988 by Manuel's father, although it did not start operating until 1992. At that time, all the ice it produced was sold in bulk to ships. fishing boats of the Port of Malaga. The oldest factory of the company is still installed there, dedicated exclusively to scales. In the 2000s, Manuel bought his part of the company from his family and remained the sole shareholder (later another minority would enter). And in 2007, it started the great Hicosol revolution, which would lead it to lead its sector: it invented a new way of producing cubes, pressing ice. "It is a 100% Malaga patent that makes us faster and cheaper … and that the ice lasts longer", assures Bustos. Each of the four machines that the company has with this technology is capable of removing 2,000 cubes per minute. "I found out by chance: I realized that the ice that was pressed during the manufacturing process took longer to melt. An engineer explained to me why: microbubbles of air are created in the middle of each cube, slowing down the passage from solid to liquid, "he says. In order to develop these new machines and start up a factory dedicated only to cubes, in the El Viso industrial estate, he made a millionaire investment that was risky, but it was worth it: in a few years Hicosol expanded to all of Spain. "And that my father said that with the snowman that I put the logo on the bags I was not going to get anywhere," he remembers smiling.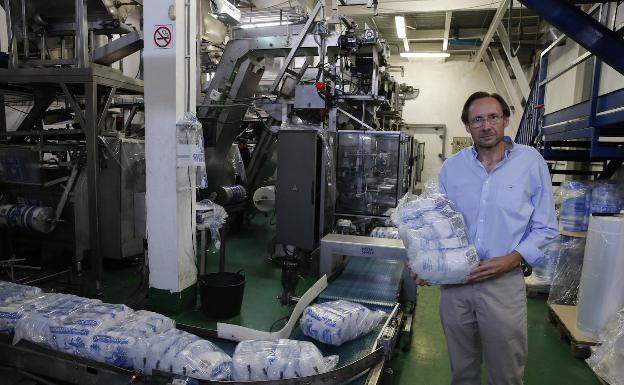 ÑITO SALAS
Already in 2014, faced with the urgent need to increase production, Hicosol bought a rival company in Valencia (Guadafret), in whose factory it also implemented its technology. Today the snowman bags arrive at all Lidl, El Corte Inglés and Maskom supermarkets in Spain, Mercadona in the South area, Carrefour in Andalusia, Catalonia and Levante, Aldi in Andalusia, a thousand Repsol gas stations, another medium thousand of Cepsa … to which must be added thousands of shops and restaurants that source from Hicosol through distributors.
24 hours, 7 days
Over time the sales channels have changed, but Hicosol doesn't care: ice is still a basic product, a 'commodity'. "Now Chinese stores sell more because they are cheaper than gas stations," he says. When the crisis began, he also noticed a turnaround in the composition of his sales: fewer bags for hotels and more for households. "People continue to drink the same drinks, only when there is money they take them outside and when not, at home," he says. What does lower or raise the total amount of ice consumed is the temperature: "For every bag we sell in winter, we sell seven in summer." In fact, during the summer months the three Hicosol factories operate 24 hours a day, seven days a week, and even then it is not enough: the company saves part of what it manufactures in the low season for the summer. That is why its workforce fluctuates so much: it goes from about 30 people in winter to 80 in summer.
Hicosol had a turnover of more than 6 million euros last year and this year it expects to grow "between 30 and 40%", according to Bustos, thanks, among other things, to the opening of two ice warehouses in Madrid and Barcelona, ​​which have made it possible to boost distribution in these two large cities. The company has 13 of its own trailers that it uses to transport ice to all corners of the country. Your product also travels by boat, for example, to the Balearic Islands.
After allocating 13 million euros to investments to improve its manufacturing capacity in recent years, the company is already accusing the lack of productive and logistical space in Malaga. However, its owner does not have high hopes of solving this problem in the short term due to the scarcity of industrial land and the high prices that exist, both in the capital and in Antequera. "We would need 10,000 square meters of factory," he says.
Ice making process. / ÑITO SALAS
Unique ingredient: tap water
What are Hicosol ice made from? Obviously water. There is no additive in the cubes: only tap water, from the municipal network, subjected to an osmotization process that guarantees that the raw material always has the same composition. For this reason, despite the lack of productive space it suffers, the company cannot consider moving to any industrial estate in the interior of the province, for example. "We need a constant and faultless water supply," says its main shareholder, Manuel Bustos. The other 'ingredient' to make your product is cold, which is generated in machines powered by ammonia.